I have recently studied FRET at UVa and CLEM at GWU. If you are interested in FRET and/or CLEM in our microscopy facility, please let me know.

Service: In charge of the Dewel Microscopy Facility – a multi-user core facility in the College of Arts & Sciences (CAS).
Teaching: BIO4564/5564 Microscopy and BIO3500/5500 Independent Study of Microscopy that cover optical microscopy including laser scanning confocal microscopy and electron microscopy (SEM and TEM). (Previous teachings include Botany, Plant Physiology, and Traditional Chinese Medicines.)
Research: Plant root development – Roots play a critical role in growth and yield of vascular plants, such as crops and medicinal plants. Individual root development occurs primarily at the apical meristem while root system formation coordinates with shoot development and the organism as a whole. Research aiming to further our understanding of root development and root system formation has been conducted in the lab using the model species Ceratopteris richardii (triangle waterfern), Arabidopsis, and maize (corn, Zea mays).
PI, NSF MRI DBI-1625779: Acquisition of a Laser Scanning Confocal Microscope for the Core, Multi-User Microscopy Facility at Appalachian State University, $430,900, 09/2016 - 08/2020 NSF MRI Division of Biological Infrastrcture
co-PI, NSF MRI EAR-1625137: Acquisition of a scanning electron microscope with EDS, EBSD, and CL for research and teaching in a multi-user facility, $561,842; 09/2016 – 03/2020
PI, NSF MRI Division of Biological Infrastrcture, DBI-0922697: Acquisition of a transmission electron microscope for the core, multi-user microscopy facility at Appalachian State University. $509,620; 08/2009 - 07/2012
co-PI: AppalSEED Academy that is funded by Burroughs Welcome Fund. $180,000; 09/2008 - 08/2011

Selected Publications
Mei, C.; Zhou, D.; Chretien, R.L.; Turner, A.; Hou, G.; Evans, M.R.; Lowman, S. A Potential Application of Pseudomonas psychrotolerans IALR632 for Lettuce Growth Promotion in Hydroponics. Microorganisms 2023, 11, 376. https://doi.org/10.3390/microorganisms11020376
Gou, M, G Hou, H Yang, X Zhang, Y Cai, G Kai, and CJ Liu, 2017. The MYB107 Transcription Factor Positively Regulates Suberin Biosynthesis. Plant Physiology 173(2): 1045-1058
Cai, Y, K Zhang, H Kim, G Hou, X Zhang, H Yang, H Feng, L Miller, J Ralph and CJ Liu, 2016. Enhancing digestibility and ethanol yield of Populus wood via expression of an engineered monolignol 4-O-methyltransferase. Nature Communications 7:11989: 1-14
Hou, G and S Littlejohn, 2013. Visualization of green and red leaf structures in flowering pear Pyrus calleryana using integrated microscopy. Journal of Plant Sciences 1(3): 28-32
Kim S, S Lowman, G Hou, J Nowak, B Flinn, and CS Mei, 2012. Growth promotion and colonization of switchgrass (Panicum virgatum) cv. Alamo by bacterial endophyte Burkholderia phytofirmans strain PsJN. Biotechnology for Biofuels, 5:37 (1-10) http://www.biotechnologyforbiofuels.com/content/5/1/37/abstract

Gou, JY, LM Miller, G Hou, X Yu, XY Chen, and CJ Liu, 2012. Acetylesterase-mediated deacetylation of pectin impairs cell elongation, pollen germination, and plant reproduction. The Plant Cell 24(1): 50-65 http://www.plantcell.org/content/24/1/50.short?keytype=ref&ijkey=wB9ZQShLKNRLxgu
Hou, G and EB Blancaflor, Fern Root Development. In: Annual Plant reviews, (2009) 37: Root Development, (Edited by T. Beeckman), Blackwell Publishing Ltd, pp. 192-208.
Mowa CN, T Li, S Jesmin, HG Folkesson, SE Usip, RE Papka, and G Hou, 2008. Delineation of VEGF-regulated genes and functions in the cervix of pregnant rodents by DNA microarray analysis. Reprod Biol Endocrinol. 6:64 (1-10)
Bernal, AJ, CM Yoo, M Mutwil, JK Jensen, G Hou, C Blaukopf, I Sørensen, EB Blancaflor, HV Scheller, and WGT Willats, 2008. Functional analysis of the cellulose synthase-like genes CSLD1, CSLD2, and CSLD4 in tip-growing Arabidopsis cells. Plant Physiology 148: 1238-1253
Saleh A, R Alvarez-Venegas, M Yilmaz, Oahn-Le, G Hou, M Sadder, A Al-Abdallat, Y Xia, G Lu, I Ladunga, and Z Avramova, 2008. The highly similar Arabidopsis homologs of trithorax ATX1 and ATX2 encode divergent biochemical functions. The Plant Cell 20: 568-579
Sarath G, G Hou, LM Baird, and RB Mitchell, 2007. Reactive oxygen species, ABA and nitric oxide interactions on the germination of warm-season C4-grasses. Planta 226: 697-708
Addendum: Sarath G, G Hou, LM Baird, and RB Mitchell, 2007. ABA, ROS and NO are Key Players during Switchgrass Seed Germination. Plant Signaling & Behavior 2(6): 492-493
Sarath G, PC Bethke, R Jones, LM Baird, G Hou, RB Mitchell, 2006. Nitric oxide accelerates seed germination in warm-1 season grasses. Planta 223: 1154-1164
Qu F, H Ye, G Hou, S Sato, TE Clemente, and TJ Morris, 2005. RDR6 has a broad spectrum but temperature-dependent antiviral defense role in Nicotiana benthamiana. Journal of Virology 79: 15209-15217
Hou G, VL Kramer, YS Wang, R Chen, G Perbal, S Gilroy, and EB Blancaflor, 2004. The promotion of gravitropism in Arabidopsis roots upon actin disruption is coupled with the extended alkalinization of the columella cytoplasm and a persistent lateral auxin gradient. The Plant Journal 39: 113-125 (with journal cover image)
Hou, G and JP Hill, 2004. Developmental anatomy of the fifth shoot-borne root in young sporophytes of Ceratopteris richardii. Planta 219: 212–220
Hou, G, JP Hill, and EB Blancaflor, 2004. Developmental anatomy and auxin response of lateral root formation in Ceratopteris richardii. Journal of Experimental Botany 55(397): 685-693
Blancaflor, EB, G Hou, and KD Chapman, 2003. Elevated levels of N-lauroylethanolamine, an endogenous constituent of desiccated seeds, disrupt normal root development in Arabidopsis thaliana seedlings. Planta 217: 206-217
Hou, G, DR Mohamalawari, and EB Blancaflor, 2003. Enhanced gravitropism of roots with a disrupted cap actin cytoskeleton. Plant Physiology 131(3): 1360-1373
Blancaflor, EB, G Hou, and DR Mohamalawari, 2003. The promotive effect of latrunculin B on maize root gravitropism is concentration dependent. Advances in Space Research 31: 2215-2220
Hou, G and JP Hill, 2002. Heteroblastic root development in Ceratopteris richardii (Parkeriaceae). International Journal of Plant Sciences 163(3): 341-351 (with journal cover image)
Deputy editor-in-chief, Introduction to Veterinary and Clinical Practice. China Agriculture Press, 1996.5, Beijing
Deputy editor-in-chief, Feed Additives from Traditional Chinese Medicines. China Agricultural Science and Technology Press, 1994.4, Beijing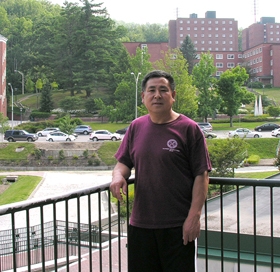 Title:

Director of Microscopy Facility
Department:

Biology

Email address: Email me

Phone: (828) 262-2682